As the title indicates, today was a busy, busy day. I had actually hoped to leave a bit earlier so that I arrived at Robarts by 10, but I guess it was closer to 10:30. I suppose that's ok. I was up much of the night working.
Anyway, I ran up into the stacks and checked out Howard Barker Plays One and Plays Two. Plays Two is the volume with The Castle in it, and I'd like to read the script now that I've seen the play. They had quite a few volumes in this series, but I can only check books out for two weeks at a time, so I have to pace myself.
I debated back-tracking to get the subway down to Dundas, but they rarely have an attendant on duty at the St. George entrance, and it would have been another couple of blocks to walk to the staffed entrance (which was essential since I had a daily TTC pass). I ended up walking from St. George to the AGO. I believe I got there just a bit after 11, so I recovered at least a bit of time.
I had hoped that enough time had passed that the Turner exhibit would be easy to maneuver, but it was quite crowded, and in fact there was a somewhat ridiculous art lecturer with a big crowd, which actually prevented me from seeing a couple of the paintings. Well, I will be going back a few times. This was really more of a quick preview for me.
It is a good show, though in my case, I must have seen all these paintings before either at the Tate Britain or the National Gallery in London. One nice and surprising aspect was since the paintings on view come from public collections (primarily Tate Britain), visitors were actually allowed to take photos. My photo of The Blue Rigi didn't turn out very well, so I'll try again next time. This is a painting that was kept in Britain, and the public was encouraged to contribute money for the purchase price. I believe I gave a pound or two back during that campaign.
Here are two others that I liked that came out a bit better.
J.M.W. Turner, Bridge and Goats: "The Ponte Delle Torri, Spoleto," ca. 1840-45
J.M.W. Turner, Rough Sea with Wreckage, ca. 1840-45
I had a quick look at the catalog, and it is nice, though I have two and 1/3 books on Turner already, so I probably don't need this one. I did note as I was going through it that there are a few paintings only on view in Los Angeles, and quite a few only on view in London, including one of Turner's most famous paintings: Rain, Steam and Speed (see below).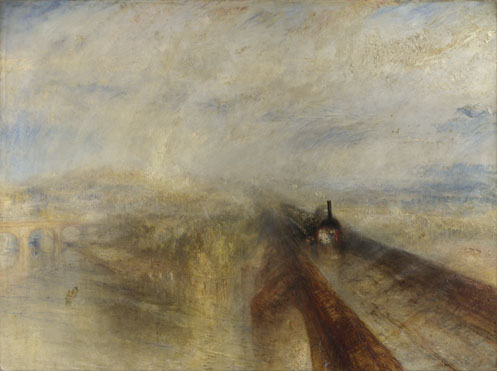 J.M.W. Turner, Rain, Steam and Speed – The Great Western Railway, 1844
While I think it unfortunate people visiting the Toronto show don't get to see all the paintings, there is still a great deal to take in. I'll try to make sure I get back a few times and plan on taking the kids at least once.
I continued heading south and grabbed some lunch, then stopped in at work. I didn't have much time, but I got a few things done. Then I walked back up to Queen to catch the streetcar to Bathurst. I was going to see King Lear at Theatre Passe Muraille. I heard that it was going to be 3.5 hours, not just 3 hours, and my heart sank a little. I think I am at the point where I spend more time thinking about the structure of the play, and why does Shakespeare do so much doubling -- two fathers ready to assume the worst about their children, two suitors (only one of whom is true), two characters that disguise themselves (and Kent not even that well, since Cordelia sees through his disguise instantly, but no one else does apparently), 3 characters that are licensed to dispense hard truths (the fool, Kent in disguise, Poor Tom), 4 or more banishments, etc.. I've found it hard to get into Lear, since I don't really see him as a king that ever deserved to be given such absolute loyalty from Kent. We only see him in decline, and with all the Lears I've ever seen, he seems so accustomed to getting his own way and so unpleasant when crossed that I don't see it possible that he ever was a great and noble king. He is a doddering old fool throughout who would be best put out to pasture. (To some extent, I feel the same way with productions of Macbeth that really stress the witches' role in the proceedings, since I think this approach excuses Macbeth of too much.) This certainly limits my emotional investment in the play, though I agree it is a significant problem for the elderly to get accustomed to a new role after "retirement." Fortunately, most seniors do move into their new roles without causing so much bloodshed. I also felt this production was just too long, and I was ready for it to be over midway through the second act. Some people were tearing up at the Cordelia death scene, but I was just ready to go by that point. At the same time, while I agree with many of the criticisms in this
review
(the pointless setting in Canada 1837, the silly battle scene and the endless cracks of thunder during the storm scene) this was much closer to a 3 star production, not a 2 star one. Still, I'm probably done with seeing Lear from now on. I wonder if that means I am down to just Hamlet and Macbeth among the major tragedies. I have already pretty much sworn off The Merchant of Venice and Othello, though it isn't an irrevocable vow in the case of the latter.
I was fortunate in getting a seat on the Bathurst streetcar, and it wasn't completely crowded the way that the Spadina one usually is. I managed to hop off just before Bloor and I had 15 minutes to spend in Honest Ed's (I had hoped to have closer to 45). I find this place fascinating and tacky all at the same time. While Honest Ed's kind of seems stuck in the 70s, it reminds me of my time here in the early 90s. While I didn't go in all that often, I did come out this way for the movies at the Bloor. (I really miss the large number of used book stores and second-run movie houses that were around Toronto in the early 90s. I think Toronto still has a bit more than its share, relative to Chicago for instance, but a lot have closed down.) I was hoping to get some cheap sneakers, but what they had wasn't suitable. Still, I picked up some deck shoes for casual Fridays at work. I did not have enough time to get to Fabricland, but I'll definitely take a look at some point in the next few weeks. Honest Ed's is going to stay open for business until the end of 2016, so I'll have a chance to introduce my family to it at least once. It will definitely be the end of an era when it goes. (I'll probably shed more genuine tears over its passing than I did today over Cordelia and Lear, though that has more to do with my own slow march into the grave.)
So that was my very busy day. Just rereading everything makes me a bit tired, so perhaps I ought to take another nap...